Before...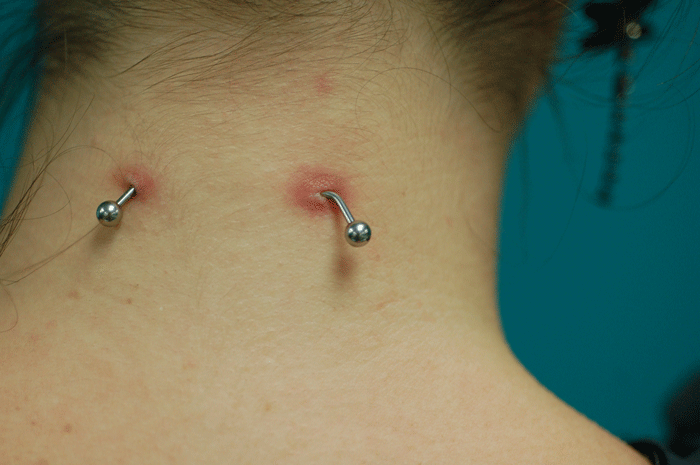 Jessica got the back of her neck pierced with a surface barbell at a shop in L.A. What she didn't know was that she got pierced with Industrial Grade Surgical Steel with an ASTM code of 316L-the lowest quality surgical steel made. The 316L surgical steel is approved to make nuts and bolts, not for use in new piercings or for wear in fully healed piercings for no more than 3-4 days. There are many things wrong with Jessica's piercing: First, it was the wrong quality metal. Second, the piece is waaaay too long for her neck, as well as the piercing. You can see how the piece is hanging out of her skin, where it should actually be fitted. The actual jewelry has too long of a bend. The back of your neck has a natural bend, and you want to avoid the start of this curve because you only want to pierce on the flat side of the neck, which is why you would normally use a piece HALF that size. Third, the style of jewlery is wrong. The actual bends of the jewelry (the part that has those balls) is too long, and when they are shorter, they allow for a better fit on your piercing. Even though the people may be super nice at the shop and seem to know what they're talking about, you always need to do your homework and know exactly what kind of metal they're putting in you!
The American Society of Testing and Materials says this metal is for nuts, bolts and screws. Who am I to argue with them?
Always ask your piercer what kind of metal they are putting in you!!!
Always keep medical Grade Jewelry in permanently
<![if !supportLineBreakNewLine]>
After...<![endif]>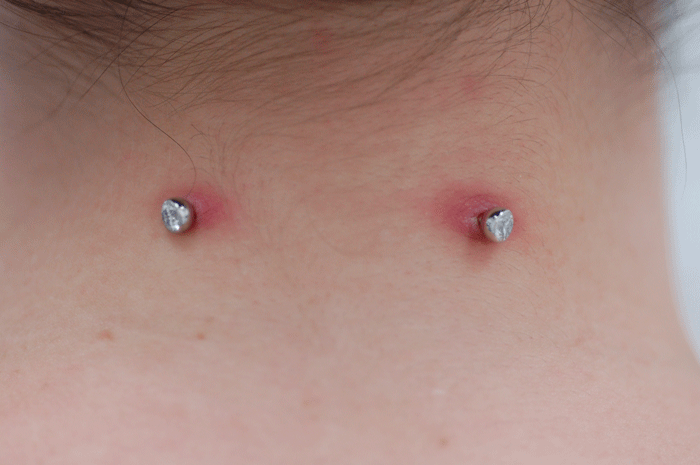 Better jewelry means better piercing!