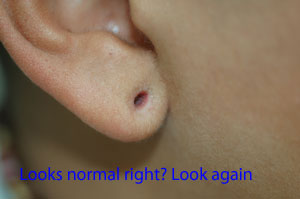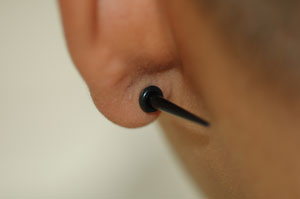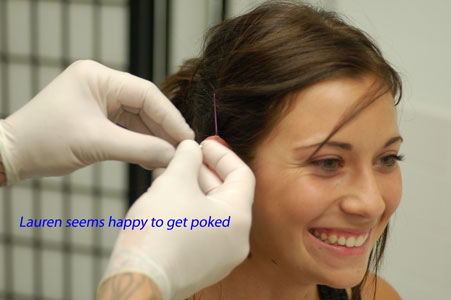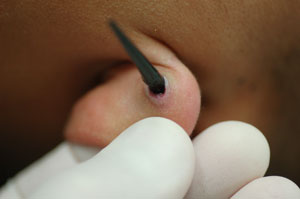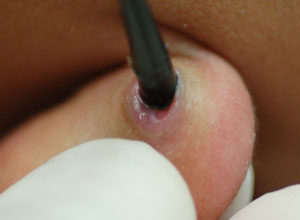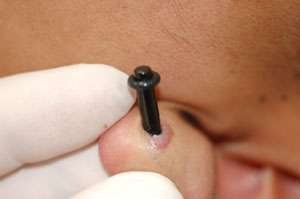 Also many plastics are great at harboring bacteria. If it not FDA approved, it has not been tested for implant in your body. So you get the combination of a material that kills your tissue, thus creating food for the bacteria...a material that's great at giving bacteria a place to hide. Many hospitals have had tremendous problems with cathaders because they refuse to exchange them every 24 hours as recommended. In effect, creating little bacteria factories. The most common bacteria on your body is staph, which also happens to be the most deadly.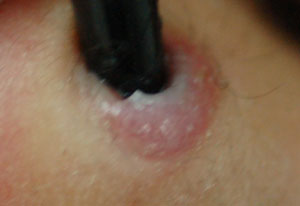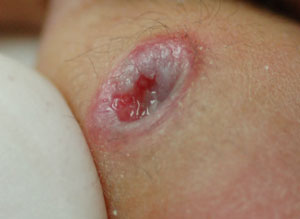 Decide for yourself. Should I leave the pieces in my ear that I bought at the mall or the corner Tattoo Parlor, or should I keep Medical Grade Jewelry in me? Tommy T's sells cosmetic grade jewelry too. But, we tell you what it is and how to use it. For temporary use only on a fully healed piercing! 3 to 5 days MAX and then throw it in the trash. Use Medical Grade Jewelry as your permanent Jewelry.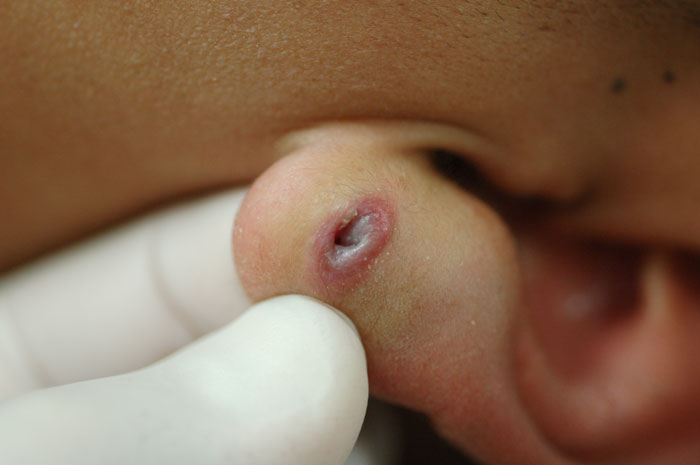 Recently, a study published in the Journal of the American Medical Association revealed
even more startling findings about bisphenol-A.1 In a large population study of individuals between the ages of 18 and 74, it was found that people with higher levels of bisphenol-A in their urine also had higher rates of cardiovascular disease and diabetes.
So you have probably heard in the media about BPA and its presence in # 7 plastic - a plastic frequently used to make containers. BPA is only the most recent toxic chemical to be found in plastic, and sadly will probably not be the last. I will cover why it is so important to avoid these toxins, and useful ideas on the ways that the most harmful plastics can be avoided and substituted with safe alternative materials. There are several reasons why it is so important to avoid the harmful toxins in plastics. Every chemical and toxin that a person is exposed to creates a sensitivity to that substance. The toxic chemical that is at the forefront of everyone's mind at the moment is Bisphenol A (BPA) - a chemical commonly used in the #7 plastics which are known as polycarbonates*, also found in most industrial acrylics. BPA is a known hormone disruptor. Studies have linked low-dose BPA exposure with such effects as permanent changes to genital tract, increase in prostate weight, decline in testosterone, breast cells predisposed to cancer, prostate cells more sensitive to hormones and cancer, attention deficit and hyperactivity disorders, and early onset puberty in girls and obesity. Get the picture! Another toxic chemical used in plastics are a group known as phthalates. Phthalates are plasticizers used to make plastic products more flexible. They are synthetic chemicals commonly found in Polyvinyl chloride (PVC) #3 plastics - including industrial products. It is now known that plasticizers in plastic migrate into fatty cells in the body. Research has found evidence of a link between phthalates and both liver damage and reproductive failure. There has also shown to be a higher risk of miscarriage among women exposed to high levels of phthalates. Plastics containing some specific phthalates have been prohibited throughout the European Union. PVC is also known simply by the name Vinyl, and is used as a wipe clean coating. These chemicals are especially dangerous if exposed to an open wound because the absorption of phthalates may exceed the maximum daily dose and have a long-term impact on your health. This is America folks, and our country is very business friendy. In Europe, half of the plastics we use wouldn't be allowed because of the toxicity levels. You have to do your own homework when it comes to piercings .
Only put FDA approved acrylics in your body! All other acrylics are for 1 to 3 day use on a fully healed piercing, then throw the jewelry in the trash. Here you can see the visual effects of the toxins. What you can't see is what they are doing to your insides.
In other words...yes it matters!
Always keep medical Grade Jewelry in permanently